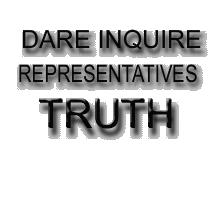 Dare Inquire Representatives Truth
"FOLLOW THE MONEY TRAIL"
TRUTH ISSUE: Computers Are On U.S.
PA Link-to-Learn: State Program to Wire Schools to the Internet


Public School Fun-ding: All Around The Town

DIRT follows the Fay-Penn inquiry on conflict of interest charges.
Inquiring Minds: Demand Answers

Follow The Saga: Start Here


ON-LINE HERALD-STANDARD ARTICLE STATES AMOUNT OF MONEY RECEIVED BY FAY-PENN = ",000"
NOW THAT'S NEWS
WAS IT JUST A MISTAKE?
WAS IT ON PURPOSE?



KERALD-STANDARD
Sunday, June 18, 2000
,000 grant to help develop technology park
By James Pletcher Jr.
Herald-Standard Business Editor
Another ,000 from state coffers is coming to Fayette County for one of its latest projects. State Sen. Richard Kasunic (D-Dunbar) on Friday announced the grant, which will help pay for infrastructure at the new University Technology Park on Route 119 north of Uniontown. This is going to help us quite a bit with this .5 million project, said Mike Krajovic, Fay-Penn Economic Development Council executive vice president. Fay-Penn and the Fayette Industrial Fund are developing the park using a million state Capital Budget grant, ,000 from the Appalachian Regional Commission and other financing. The new park, for which ground was broken in May, already has one tenant, Dr. Harry Sampey, who will build a 12,000 square foot research center on the property. We are pleased to be providing ,000 in additional funding for economic development in our area, Kasunic said. He announced the grant at Fay-Penns quarter board meeting at the Holiday Inn, Uniontown. The funds will be used to construct public infrastructure in the park to support the new Sampey research facility and other future companies as well, Kasunic said. Lori Omatick, Fay-Penn economic development manager, said work on infrastructure a new road, utilities, water line and sewage line placements is on schedule and should be completed by Thanksgiving. In addition, Kasunic said Fay-Penn will be getting its annual state fund of ,000, which will go into the agencys revolving loan fund. That fund presently has about .1 million in it, money used to support local business development. Fay-Penn also received special recognition for its involvement in the federal Enterprise Community program. Debi Hanna, Fayette Enterprise Community manager, said the local program received national recognition at the annual Rural Community Development National Training Conference held June 6-8 in Maryland. Officials from the Office of Community Development and the U.S. Department of Agriculture presented Fay-Penn with the Midas Touch Award for round II communities in the program. Hanna said the award was presented to communities that accomplished the most objectives in their strategic plan in addition to securing the most funds in 1999. Hanna said the Fayette Enterprise Community received more than million in federal, state, local and private funding and that an additional million has been earmarked for benchmark activities in the near future. The Fayette Enterprise Community was also one of three finalists in the Best Annual Report category at the awards ceremony. The three finalists were selected from 57 round I and round II communities in the program nationwide. In other reports, Omatick updated the board on the state SelectSites program. Fayette submitted 17 possible sites of which six have cleared the first hurdle. Omatick explained that the Governors Action Team will use the sites as first choices for business interested in locating in Pennsylvania. The sites included in the program will also be marketed nationally. Jim Smith, Fay-Penn tourism development specialist and rail manager, briefed board members on the new intermodal facility that will be built near Sony in Westmoreland County. This facility will serve companies within a 100 mile radius. It means that our rail line will connect to three class one carriers through it. Another advantage is that it will tie into the Canadian National railroad, the only transcontinental railroad in the U.S. It has more than 16,000 route miles of track and goes clear to the Gulf of Mexico. Companies here will be able to ship via rail to the rest of the country.
Check back : More DIRT